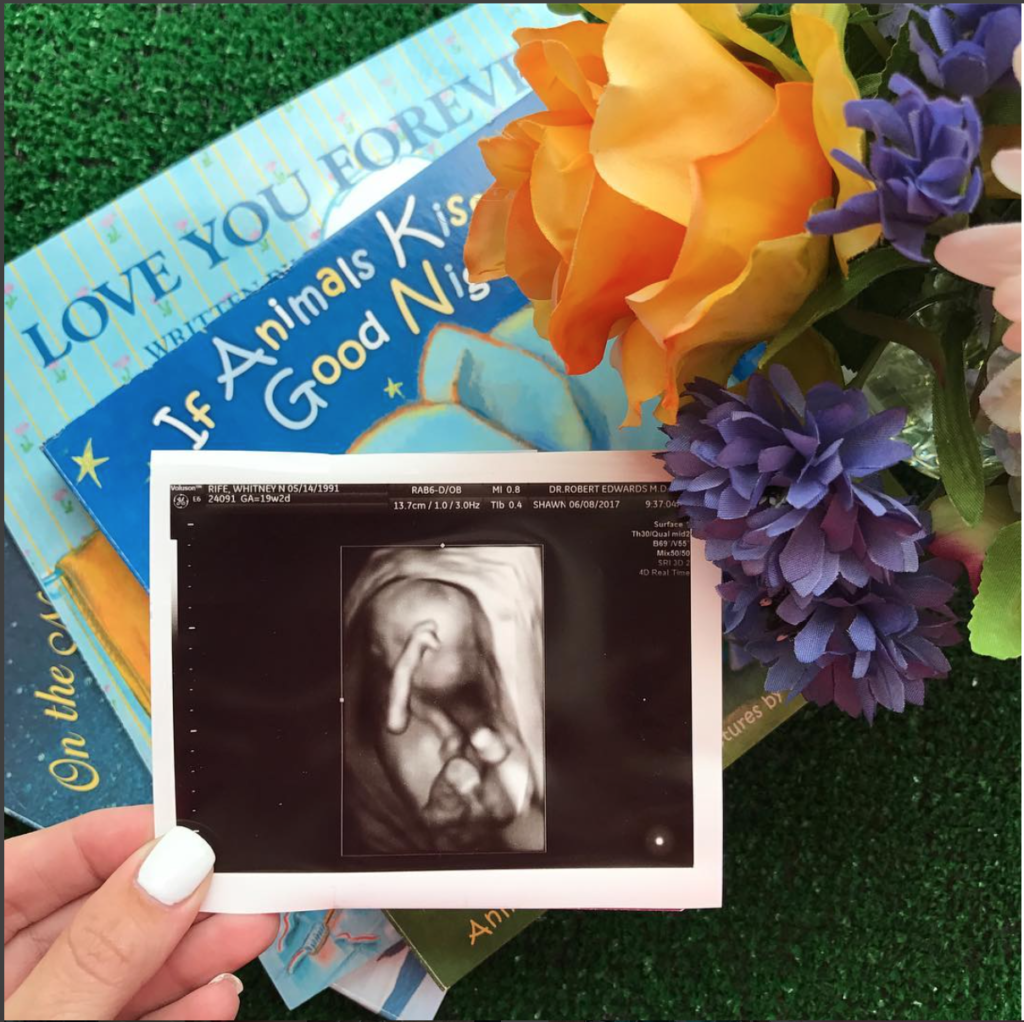 22 weeks down, 18 to go! I cannot believe almost 6 months have already passed by.  The first 16 weeks were really, really long as I was sick the entire time but now that I feel better, the days just get shorter and shorter and I am ready to skip ahead and he already be here! Shawn and I have been working on his nursery.  We have all of his bedding, ordered his crib which should be here by now, and we have ordered the glider for his nursery.  I am trying to decide on wall decor but I change my mind everyday!  Finding a rug and a light I LOVE has been the hardest part.  I feel like every light I like is just a little too girly soooo-I am trying to find a more masculine light that fits with our theme.  Researching things to register for and following along with other momma bloggers has been one of my favorite parts about this time.  We have had so much fun picking our items for Bo and registering for them, even tho we have NO idea what we are really getting, ha ha.  I know you all are probably so annoyed by all the question on Instagram and Snapchat but I TRULY appreciate it more than you know.  I decided to register us on BabyList as it is easiest for Shawn and I to share the app and do things via long distance rather than actually going to a Target or Babies R Us and registering.  BabyList has actually been helpful in more ways than just registering.  It has a lot of great reads and recommendations so if you are a momma to be, I highly recommend taking a look into registering there!
How far along: 22 Weeks!
When is your due date: October 31st
Name: Boeing Everett Becker
Movement: Yes, the little guy moves like crazy now!  For a while when I would feel him, I wouldn't be around Shawn, and I didn't want to say anything away from him because I wanted him to be there when we could both feel him but last week he asked on FaceTime "have you felt him move yet," and I very shyly said "yesssss."  It was the weirdest thing because I NEVER have my shirt up and Dolly had wrestled with me and pulled it up, I could literally see my belly moving and his foot, I'm assuming, kicking my stomach out.  It was like Bo knew his daddy was asking about him and talking to him.  I hung up the phone really fast and told him I would call him back so I could record it.  I sent him a couple videos where you could really see Bo moving.  It makes me so sad to have to do it this way and I know it breaks Shawn's heart not being around for EVERY moment, but it was so sweet that at that moment Bo was saying "hey dad, I'm ready to get out of here and meet you," he he.
Belly Button:  It isn't starting to "poke out" yet! I think that is the thing I DREAD the most! OH MY GOSH! I am NOT a belly button person so when/if it does come out, bikini days are OVER for me!
Cravings:  I am finally just now back to eating normal again.  The only thing I like and want more now than usual is crab legs, and I still LOVE Waffle House.  I know Shawn is SO over it but God love him, he still takes me ANYTIME I want to go.  The All-Star breakfast is just…amazing.
Size: Bo is the size of a corn on the cob! He is weighing about 14 oz.
Weight Gain:  I have gained about 4 pounds.  I lost around 10 pounds in the beginning so I am just starting to actually gain weight that was weight I had lost.  My belly is showing and two people asked me when I was due and what I was having without me ever mentioning I was pregnant.  At first (at McAlister's) it caught me off guard, but the little lady at the nail salon was asking because they have a "mommy pedicure" ha ha, of course I just HAD to get it!
Physical Changes:  My belly is really out after lunch and dinner of course, and I can tell most in a bathing suit.  Other than that not many physical changes.  My breasts have been growing from the very beginning, which I didn't mind then but now they are getting a little out of control!  They are not sore yet, but my lower back has been KILLING me!
Nursery: We are only working on Bo's nursery at the lake right now.  I wanted it to be soft and the most beautiful baby blue I could find-which was a bumper set I fell IN LOVE with from Restoration Hardware, to only find out the picture via Pinterest was OVER 4 years old! Ah, I was devastated and finally reached out on Instagram! The sweetest woman in the world commented back that she had the set I was looking for and would sell it to me! Come to find out, she literally lives only an hour away from here! I am blessed to have found her because I absolutely LOVE Bo's crib accessories and she gave me so many beautiful ideas that she had done in her sons nursery!  Hopefully his crib will be in soon as well as his glider and I can start sharing pictures.  I love how his room sets as you can see the lake from his crib and when you will sit in the glider which I know will be so nice when we are rocking him.
Things we have purchased so far:  We purchased this crib and this glider.
I am IN LOVE with our strollers we got! We purchases this stroller, this carseat, and this stroller.  The Bugaboo stroller is really big, but I cannot WAIT to go shopping with him in it.  I have wanted it since I saw Rachel Parcell (my favorite blogger) with it years ago, so I couldn't WAIT to get it in!  I do have to say the Rachel Zoe Stroller is a DREAM!  It is so easy to snap together and the colors are PERFECT!  He is going to look so handsome laying there in his little carseat and then it is super easy to pop out of the car and into the stroller plus, we can use both of these strollers for years.
Shawn bought me the LV Neverfull to carry as Bo's diaper bag but I also ordered this one to match the Rachel Zoe Stroller.
Of course we have picked him up tons of clothes already 🙂 oops-I think he already has more shoes than his daddy but that's ok!
Since we are between locations, we sadly need more than one of things so we don't have to pack it all up EVERY time.  We have gotten this wipe warmer, this Rock 'N Play, and this Baby Einstein Jumper.  We have just picked up these things here and there when we have seen them on sale.
Instagram/Snapchat questions from readers:
Where are we planning on "baby mooning"?
We are planning on going to Bermuda and are veryyyy excited! We are unsure how our honeymoon will play out-my mom says she will watch Bo while we go on a honeymoon, but I mean, can we really leave him at 6 months old?!!! We are going to go over Shawns birthday on our baby moon and I will be 31 weeks pregnant.  Some of you have asked about Zika and traveling then but I have cleared all of these travel plans with our doctor, and if you know Shawn and I-we travel all the time.  If for some reason the time approaches and we do not think it is smart to go, we have insurance so we will just postpone or cancel the trip but as of now, we couldn't be more excited to get away for a little bit, just us two before we become three!
Are you planning a baby shower for Bo or focusing more on wedding activities?
Before we found out we were pregnant, there were some wedding showers in the planning stages, but once we found out we were having a baby-those all kind of changed as getting things for Bo is much more important to us.  My Virginia family and friends are throwing us a couples shower here, and then our friends in Myrtle Beach plus Shawn's family are throwing us a shower there-both baby showers.  When the wedding gets closer, Shawn and I may have some type of wedding shower but we really haven't thought anymore about a wedding shower.
Will you be full time at the lake house?
Bo will be born near my hometown as that is where our doctor is.  Once he is born, we plan on being at the lake house (2.5 hours away) for a little while and finding a pediatrician around Lake Norman.  If anyone has any suggestions, PLEASE email them to me as we are in the process of trying to find one now.  If he comes in November, it will be holiday season for me at The Retail Therapist, so I will need to go back to work as soon as possible.  Thankfully Bo can go with me to work but his daddy isn't going to like that very well so I guess we will see closer to then IF I will go back to work so soon.  Black Friday at The Retail Therapist is one of my favorite evenings so I am hoping to at least be back by then!  I told Shawn that it was typical for dads to take at least 12 weeks off for maternity leave-he thought I was crazy! 🙂
What will happen to the store front once Bo arrives/wedding happens?
This is a question I think about at least 1,000 times a day.  I do not want Bo away from Shawn-heck, I don't want to ever be away from Shawn, and while we were dating and engaged it wasn't easy to be away Tuesday-Friday, but we made it work.  With Bo, I have NO idea what is going to happen.  Even being at the lake it's still 3.5+ hours from Myrtle Beach.  I love my storefront and I love going TO the store and not just fulfilling online orders everyday but thankfully I have amazing employees who I know will help me 100% so I trust in God that he will lead us to the right decision and give us all strength to get through.
What belly butter are you using?
I had so many great recommendations via snapchat! I just so happen to have thought about it tho when I saw this Mama Bee Belly Butter walking through Target so it's the one I went with.  I like it thus far as it doesn't have a smell and I am not a scent person.  So in the next bump date I will let you know how it really is.  I have only used it 5/6 times as of today.
Has your skin changed?
My skin has actually not changed, sometimes I feel my arms and legs are dryer, but other than that everything is normal.  My face hasn't had any breakouts, which I am thankful for.  This may be TMI, but it's hard not having a period!  I never, ever thought I would say that but sometimes I am like, "dang, it would be nice to have one this month," ha ha.
How are you feeling?
I am honestly feeling fine, other than my lower back hurting.  My eating habits are back to normal, and I am able to stay up late and wake up as I did before.  I am feeling a little more tired by the evening but Dolly and I will relax or Shawn and I will go out on the boat (on weekends) and I feel great!  I honestly really do feel pretty.  I always thought I would HATE having a bump or Shawn touching it, but sometimes when we are laying on the couch and he isn't, I find myself thinking "I wish his hand was on my belly,"  maybe that is just because he is so dang sweet it literally makes me love him even more in little moments like that.  I know he is scared to because I have preached for months DO NOT TOUCH MY BELLY, ha ha, but when I am "still sleeping" in the mornings and he is awake I can feel him rub his hand across my belly (hoping I don't wake up and catch him, lol).  I get so sad when I have to come back home and he goes back to Myrtle Beach because I know the next time I see him, I will be just a little bigger-well, much more noticeable than if he saw me everyday so I send him pictures as often as I can.  He tells me everyday how beautiful I look and that he didn't know he could love me anymore than seeing me carrying our child.  I am sure most men feel this way-but to really experience that yourself is very magical.
What kind of workouts did you do pre-Bo and now with Bo on the way?
I hate to say this, but I hate to work out, I think because I am so active running around the store during the day, that is how I stayed small? I couldn't tell you the last time I went to the gym, and I really do not eat that healthy.  I know all of this is going to catch up with me, but I have always just had a fast metabolism and only eat in moderation.  I eat many times a day, but they are not HUGE meals.  Now that Bo is on the way, I do not us the "eating for two" motto.  I enjoy food like I used to, now, but I do not overdo it. Because my stomach is small, it gets full really fast-so I still continue to eat many times a day, just smaller amounts.  I know after he is born it will be crunch time as I will have SIX MONTHS to get back in my wedding gown!
Are you wearing maternity clothes?
I am not.  I am going to try to avoid maternity clothes period and style cute, boutique clothes.  Hopefully I will be able to give other mamas ideas, especially the ones who are not fond of maternity clothes.  I can still fit in my small dresses and some things that come in for the store that I love I will keep in a small to wear next year or if I want to wear it in the weeks to come, I will get a medium.  Truly just depends on the individual piece.  When fall comes-I will just wear a lot more leggings and piko tops!
What are you most scared of?
LABOR! I do not tolerate pain very well, so I am SCARED of that-and breast feeding/trying to make the best decision for US.  I was not breast fed, nor my brother-and we are fine but I feel as a new mom it's what I am supposed to do.  I do not know anything about babies, feeding them, holding them, etc. and with all the traveling we will do and with both of us being business owners-the responsibility and commitment I have read about it totally stresses me out!  If any of you moms have any advice or reccomendaions-please leave it on todays Instagram photo or DM me! I would LOVE to know your experiences!!!
How is Shawn? Does he act different?
Shawn is SO excited.  Bless his heart.  Because I was so sick and upset for many weeks, he held in all of his excitement but now we talk about baby things ALL the time.  Of course he is ecstatic we are having a little boy and is already planning all of their off shore fishing trips, etc.
He doesn't act any different really other than he is more cautious on the boat, or driving, and going certain places.  For a while he wouldn't do things we used to do until one night I was like "FOR LORD SAKES, I AM GOING  TO GO TO WAHOOS AND SIT AT THE BAR BY MYSELF AND DRINK A STRAWBERRY DAIQUIRI (virgin) AND JUST BE NORMAL! YOU HAVE JUST QUIT LIVING AND ACT LIKE WE HAVE TO STAY HOME 24/7! THAT IS NOT US, are you coming or not?!" And since then, we have been back to our normal selves, thankfully!!! He is so good to me, to us, and I just really couldn't be more thankful.  A time I thought I would never want has really changed our relationship for the better.  I loved him when met him-I am in love with him-but now that love is even more.  I can't wait to see how it will change in the next 3+ months.
SaveSave